Boosted Board Stealth
DKK13592
The Boosted Board Stealth is the pinnacle of performance with 38 km/h Top Speed, Extended Range of 21KM (14 miles) and the new Super Flex Composite Deck.
Range: 21KM
Top Speed: 38KM/U
Highlights: Extended Range, Build quality,  Speed.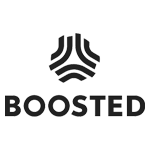 Due to the bankruptcy of Boosted we are unable to offer our regular level of service. This product is sold at the buyer's own risk and peril, without warranty against hidden defects. All parts are brand new and checked for defects before shipping. We offer a 14 day exchange to support any issues on arrival.
Fatdaddy Shipping Estimate
Ønsker du det sendt søndag? Så Bestil Nu.
KununguaK from København S, Sami from Kbh S & 28 others
Købte dette for nyligt.
Brand: Boosted Boards


Betaler rentefri inden for 12, 24 eller 36 måneder
Betale i rater? Dette er muligt med Fatdaddy! Meget nyttigt, hvis det samlede beløb ikke er praktisk i et stykke tid, eller hvis du ikke ønsker at bruge alle dine sparepenge. Vælg Spred betalinger ved kassen.
2 års garanti
Ingen kan lide at bekymre sig om deres køb. Alle produkter har 2 års garanti med 6 måneders batterier.
Hurtig levering, bestil nu til afsendelse søndag*
Bestilt i dag sendt søndag, med gratis forsendelse over € 400 i Europa! Hold styr på din ordre med en tracktrace-kode.
Test kør i vores butikker
Se dette produkt i handling i vores butikker i Århus! Er du ikke sikker på et bestemt produkt? Anmod om et testkørsel!
Fatdaddy kundeservice
Vores Customer Stoke team er klar til at besvare alle dine spørgsmål. Brug for nogle råd om gear? Bare spørg!
Beskrivelse
SPECS
Range Up to 14 Miles / 22KM
Top Speed Up to 24 mph / 35KM
Hill Climbing Up to 25% Grade
Ride Modes 5 Ride Modes
Weight 17 lbs / 7KG
Dimensions 11.3 in (W), 38.0 in (L), 5.7 in (H)
Power 2,100 Watts
Braking Regenerative Brakes
Deck Super Flex Composite Deck
Wheels Boosted Stratus 85mm
Trucks 190mm CNC Precision Machined
App iOS and Android™
Remote Ergonomic Bluetooth® Remote
Charging Time 1 hr 45 min
Yderligere information
| | |
| --- | --- |
| Vægt | 8 kg |
| Deck | |
| Motor | |
| Speed | |
| Range | |
| eBoard Features | |
Share your experience below!
×
Log ind
Opret en kundekonto