Cooper E
Kun DDK833 pr. Måned med Resurs bankfinansiering.
DKK20000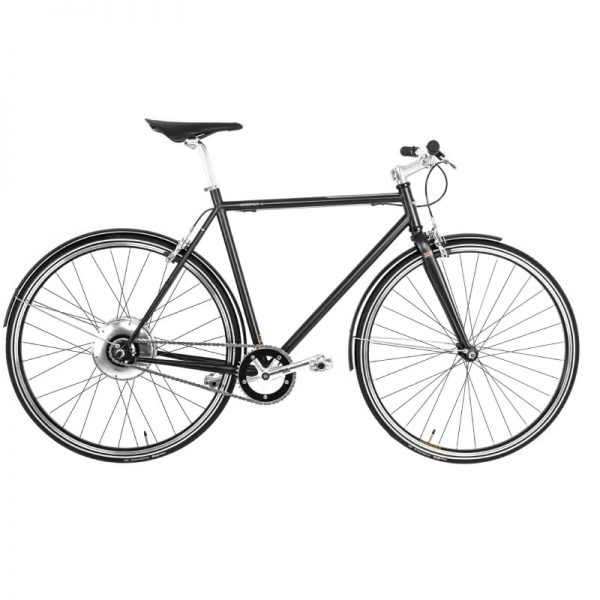 Attack the city with the first ever Electrified Cooper Bikes. The Cooper E features the same 'KERS', Kinectic Energy Recovery System, technology found in Formula 1 cars. Matched with the Zehus all in one motor, beautiful Reynolds steel frame, and striped back design the Cooper E is the perfect electrified city bike. Available in 4 unique Cooper colours. Finished off with the comfortable Brooks Cambium All Weather saddle.
The 250 watt motor even has an in-built KERS system (Kinetic Energy Recovery), technology that is found in modern day Formula One cars. The Cooper E bike is clean and elegant in its design but functions as a brilliant city eBike.
Buy the Cooper E electric bike for only €74,97 per month (36 months)
Beskrivelse
Specification
Frame Reynolds 520 steel
Brakes Tektro FL-750
Headset FSA TH-882
Stem Cooper 110mm 10° (M/L) 90mm 10° (S)
Headset FSA TH-882
Handlebar Cooper 580mm 25.4mm
Saddle Brooks Cambium C17 All Weather
Crankset Sturmey Archer FCT24 165mm
Chain ring Sturmey Archer 44T
Bottom bracket Sturmey Archer BBS15
Electric Hub Zehus Bike All in One
Rims Vittoria Tactic
Rear sprocket 16T
Tyres Vittoria Randonneur 700x28C
Front Hub Vittoria
Cooper Bikes is the bicycle division of the Cooper Car Company, the company behind the original Mini Cooper and F1 champions in 1959 and 1960. Cooper is a brand forged in the furnace of disruption. A brand inspired by an individ­ual that refused to accept the ac­cepted wisdom and chose to do things his own way. A brand that became a byword for revolution and innovation. A brand that genuinely changed performance engineering forev­er. A brand that changed the status quo by putting excellence within reach of the masses. A brand whose achievements made it legend.
John Cooper was the most radical automotive engineer in racing history. Flying in the face of conventional wisdom, he was the first man to build a rear-engined racing car, and the first to win a Formula1 race with one. The man who saw the Mini for what it is was, a brilliant handling car that could win races – leading to him to create the Mini Cooper.
It is this legacy of innovation and technology that defines what Cooper is today. Cooper technology and performance is focused not on motorcars but on bicycles and e-bikes. The concept is similar, use the best, forward thinking technology and make it available to improve the experience for the user.
Cooper's vision is to use latest technologies, including electrification to create the ultimate mode of urban transportation. Capability to gener­ate speed as well as load carrying capacity, easy hill climbing, range and all terrain comfort.
In 2009, Mike and Charlie Cooper, John's son and grandson, exasperated by the state of the once great Brit­ish Cycle industry, revisited this Cooper 'sideline'. Together they designed a range of modern bikes that utilised the engineering, design and innovation that made the brand famous.
From the start they married modern bike technology to the traditional design principles practiced and much loved by the engineers at Cooper. Cooper Bikes launched in October 2009 with two 'T100' models bikes that combined the elegant beauty of simple design in partner­ship with the latest bike technology. The range gained critical acclaim and Cooper Bikes have carried the Cooper legacy of innovation and design beauty ever since.
Yderligere information
| | |
| --- | --- |
| Color | Matte Black, Cocoa, Matte White, Monza Blue |
| Height | 52, 57, 61 |